I decided, when I wrote this post, that I would write to the school my great grandfather attended (prior to 1880) to see if they had archives on past students. I heard from them this morning. Here's what I received: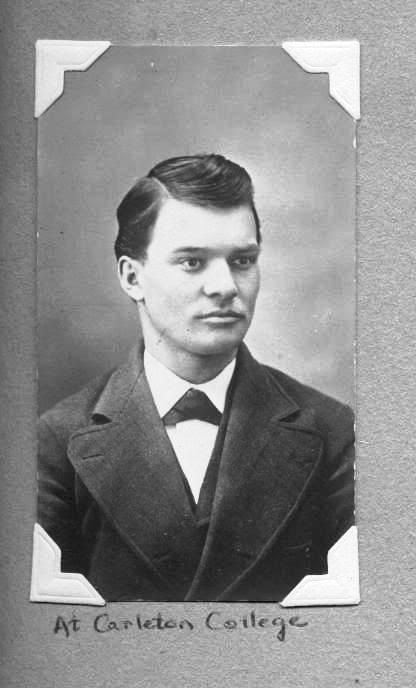 "
We were successful in locating information about your great grandfather Joseph Andrew Stegner. Our records show that he was enrolled here for the 1877/78 school year. At that time, in addition to the college proper,

Carleton

had an associated "Academy" for studies at the high school level. Your great grandfather took courses in Carleton's "Academy" in their Preparatory Department designed as a three-year program to prepare students for collegiate work. Joseph A Stegner was enrolled in the Classics Track, Third Class. If he had continued his studies at Carleton, he would have moved into the Second and First Class the subsequent years.

"His 'transcript' follows and was pieced together from handwritten entries on several pages of a large ledger. His courses and marks are as follows:

"Fall Term 1877
Deportment - 8.7
Latin - 8.7
Algebra - 8.4
Grammar - 8.5
Rhetoricals - 8.2
Grade average 8.5
1 unexcused absence
"The ledgers also list Joseph's parent as Conrad Stegner and his address as East

Castle Rock

. His age is listed as 19.3, 19.6 and 19.9 for October 1877, January 1878 and April 1878 respectively. During Winter Term 1878 he roomed in Willis Hall no. 16 and during the Spring Term 1878 in Self Boarding Hall no. 2. Self Boarding Hall was popularly known as "Pancake House" due to the residents' fondness for sour batter flapjacks.
"Joseph Stegner was also mentioned in 2 issues of the Carletonia, the monthly student newspaper of the time, in the early 1880s. He is referred to as "formerly of '84" which would have been his year of graduation had he completed three years at the Academy and four years at

Carleton College

. The first mention states that he was a founding member of the Alpha Beta Phi society. The Carleton College catalog of 1877/78, states that the Alpha Beta Phi society, along with the Philomathian society, were "voluntary organizations for literary culture [that]… afford their members valuable opportunities for improvement in writing and extemporaneous speaking. Recitations, readings, debates, criticisms, essays, orations, and music, occupy the regular weekly meetings, and occasionally public exercises are held in the College Chapel."
"From the Carletonia newspaper
"Nov 1882, volume 4, no. 2
"Jos. A. STEGNER, one of the charter members of the Alpha Beta Phi Society, has gone, with his family, to the

far west

to seek his fortune. May success attend all his efforts, is the wish of Carleton friends.
"November 1883, volume 3, no. 4
"Jos. A. Stegner, formerly of '84, has ceased to roam in the "far west" and will now settle down 'for life' on the old place at East

Castle Rock

."
I LOVE that they responded so quickly! It's so fun to receive facts like this. It almost feels like putting flesh on the bare bones of the basic dates of birth, marriage and death. Thank you Carleton College!