Born in Lomira, Dodge County, Wisconsin, on June 12, 1858.
He married Matilda Greenfield Johnson, whom I have listed was called "May," on November 17, 1880 in Faribault, Rice County, Minnesota, by Reverend Edwin G. Hunter at St. John's Episcopal Church.
As you can see by the link, Rev. Hunter spent his time in Indiana, not Minnesota--I'm checking on this. Also, unless it no longer exists, There are two St. John's Episcopal Churches in Minnesota neither of which are in Faribault—one in Mankato and one in Minneapolis. In Faribault, there is only The Episcopal Cathedral of our Merciful Savior, which was built in 1862. Could this be the place? I have written an email to inquire.
Matilda was born in Okaman, Waseca County, Minnesota (

Okaman seems to no longer exist though it is found mentioned in historic documents. There is, however, an Okaman Cemetery and an Okaman Lake in Minnesota)

on April 10, 1861.
On the back of the page my mother kept on the Joseph and Matilda it says the following: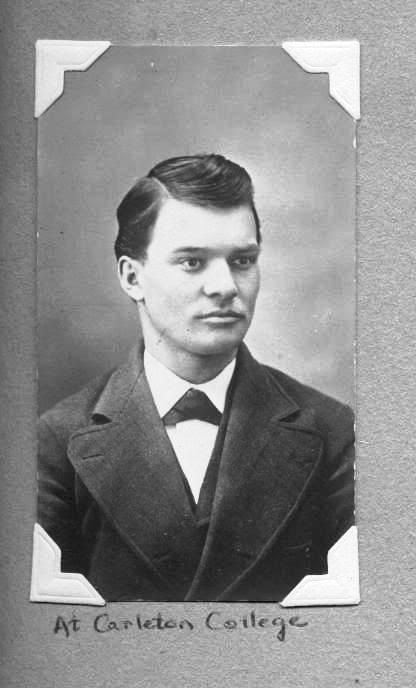 "Joseph Andrew Stegner attended Carleton College in Northfield, Minn.
"Matilda Greenfield Johnson ("May") went to Public School in Albert Lea, Minn. Started school at Wells, Minn. And finished at St. Mary's, Faribault, Minn. She moved to Wells when 7-8 yrs old and to Janesville when 15-16. Went to school at Albert Lea, Minn.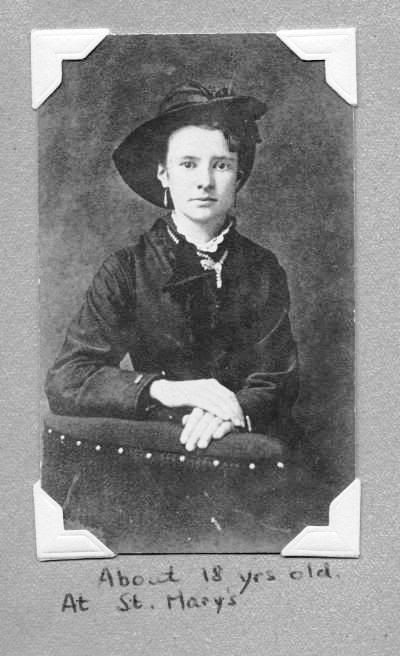 And then to St. Mary's Hall (Episcopal Girls' Boarding School) at Faribault, Minn. Where she won a Cathedral Cross.
The Stegner home in East Castle Rock.
At 19 she married and they moved to Fulda; then to East Castle Rock where they spent 6-7 yrs on a farm, with the exception of one year in Fulda. Then they moved to St. Paul where Mr. Stegner was foreman for Lockwood, Allard & Co., wholesale feed and fuel. In Nov. 1889, they moved to Latah, Wash. Where they opened a small notions store.

The store in Trent.
In May 1890 they moved to Trent, Wash. Where they had the only general merchandise store between Spokane and Spokane Bridge. Mr. Stegner was an adjuster and collector for the Singer Sewing Machine co. and was on the road most of the time, leaving the store to his wife. He died of appendicitis, age 37. She died at the home of her daughter Catherine, in her sleep, age 71 yrs, 10 mo. And 2 days.
"Here is a copy of a handwritten "character study" of Joseph A. Stegner by his friend, Monroe Denman. This is one of Grandma Narup's treasures:
State of Washington
County of Spokane
Monroe Denman being duly sworn on oath says that he is 36 yrs of age. That his Post Office address is Hillyard, State of Washington. I have known J.A. Stegner for 19 (nineteen) years, that he has always been honest and upright in all his dealings and that his character is irreproachable. I have known him intimately and he is all that I have stated above so far as I know or have heard.
Subscribed and sworn to before me this
17th of January A.D. 1895
"(This was written only six months before his death, July 18, 1895)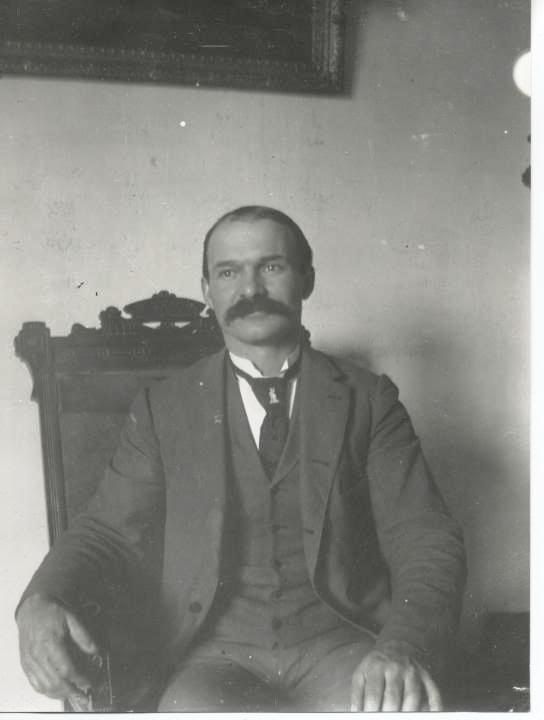 Joseph Andrew Stegner - 1895
"Son, Conrad says of his father:
Honesty was his middle name, somewhat stern at times but with a fine sense of humor and a hearty laugh. He was a life-long enemy of liquor and secret societies, like his father.
Under his mother's influence, he became more liberal as he grew older and was fast becoming a power in the community. He once ran for the legislature on the "Populist" ticket, but lost to a man named Trent, thru a mix-up over his residence address, which was Trent, and the name of the other candidate whose name was Trent. Father died before the next election."
The Pedicord Hotel.
Joseph Andrew Stegner suffered an appendicitis and
was operated on in the Pedicord Hotel. My mother said that he died of an appendicitis but I've also heard it said that his was the "first successful appendectomy"
in the valley, so most likely, he died during recovery from the surgery in Spokane, Washington on 18 July, 1895. He was buried four days later in the Pleasant Prairie Cemetery in what was then known as Trent, but is now Spokane, Washington.
Matilda died in Glendale, California on February 12, 1933 and was buried two days later in the Forest Lawn Cemetery in Los Angeles.
Joseph and Matilda had five children. More on them later….
NOTE: On Matilda's "christened" line on the family group sheet, there is no date, but under "where" there are the words "Episcopal Church by Rev. Geo. Tanner, D.D." There is a book written by this gentleman, so I'm assuming that it doesn't mean that Matilda was christened by him but that it serves as a reference of her birth information. I will find this out also.