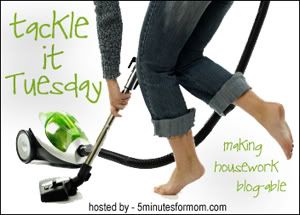 I started in on Saturday giving the master bedroom an overhaul. I never let it get really bad, but it's kind of my go-to place when a project stands unfinished. Yesterday I cleaned under my bed and a shelf in the laundry room. It makes me so happy to have those things done. So, today is my bedroom closet. I can't believe I'm showing this to you....
This is what I started today with.
I'm continually putting things into the closet but taking nothing out, so I gave myself 15 minutes to get it done. I knew it wouldn't get completely cleaned out, but even a little bit would help. I set a timer for five minutes and took a photo or two when the timer went off.
This is the stuff just from those shelves
I only cleaned off the top shelf that housed my shoes, the one below that, and the top shelf to the left side.
I found various strange items--my tool box, a blanket, three glass blocks from an unfinished craft project, a Christmas present that I still haven't delivered (oh, that's so me. Ugh!), and a bunch of other mommy treasures (you know, the stuff you have to hide so no one destroys it? I knew you'd know what I was talking about). I also found a brown M&M--I wasn't even tempted.
This is the closet after ten minutes. All the shelf junk was on the floor. All the remaining hanging clothes were on the bed behind me. At this point, I'm feeling good about getting it back into place and tossing various items.
I need to explain my tool box. Just because I think it's so great. A number of years ago, before Inmate #6 came into our family, we had to renovate our home to accomodate another little person. As this was happening, the Warden would ask for various tools to get things done. When he wasn't around, I had things to do too but could never find the right tool, so one day, I'd finally had it and went to Home Depot. I went up to a guy in the tool department and asked him just what I would need for a starter tool box. He set me up, and there you have it. I keep it in my closet for safe keeping. No one else is allowed to touch it, but if you ever need a tool, I'm the go to girl in this house. With today's closet clean-up, it now sits on the highest shelf--you can barely see it in this photo.
This is where I was at fifteen minutes. Most of the things were put away, but there was still a various array of garbahj on the floor. I found a deck of 47 cards and a stray individually wrapped chocolate chip cookie--untouched.
I hung my clothes by what they were--jackets, skirts, blouses, etc. and inside those criteria, I hung them according to color. Yes, there's a little bit of OCD in there.
Those are ALL of my shoes on that one measly shelf. I am not a shopper. My shoes are black, black, black, and um...black. I do have one pair of winter white sandals (like these legs'd ever be tan enough for those--ha!) and a pair of brown Mary Janes. I need to branch out a bit, don't you think?
I also found some real treasures along the way. Funny how many of them had to do with the season....
This has a cute little humorous note from my grandfather (who passed away when I was just a little girl) to my dad. I tried to take a picture of the back, but the writing was too tiny. I love the humor my family shares--grateful for the ol' Hamm gene pool.
In the middle of this pile of jewelry (from the stuff that was from the top shelf to the far left side of the closet, you can see a metal heart. It's in the center of this photo. My dad gave me this pendant with a chain and matching pair of earrings on Valentine's Day when I was eighteen. It was the first "real" Valentine's present I can remember ever getting--other than those nasty chalk-like conversation hearts that we woke to with a sweet note written on them from my mom. I'd take those babies to school and give them away, but the note was always the best part of Valentine's Day.
This is that shelf now.
This is the Valentine's card I received from the inmates and the Warden last year.
Also in the closet, I found the plastic bag that holds the Valentine's for the kids for this year. No conversation hearts here; always chocolate! Also attempting to follow in my mom's footsteps, there will be a card for each child and one for the Warden. Speaking of the Warden, I haven't yet done anything for him, and to be honest, I'm kind of at a loss. I'd better get thinking here pretty darned quick.
Here was the biggest treasure of all. I found this photo of my grandfather; his wife, Eva; and my mom. On the back is says Spokane, 1939. My mom was 12--that's her to the left. Now, WHY did I put it on my closet shelf? It is now in a frame.
The finished (well, top shelves finished) closet
So, here's the final photo. I will tackle the shelves to the left tomorrow and get through all of those clothes. I still have the entire right side to wallow through too, so that'll be the rest of the week.